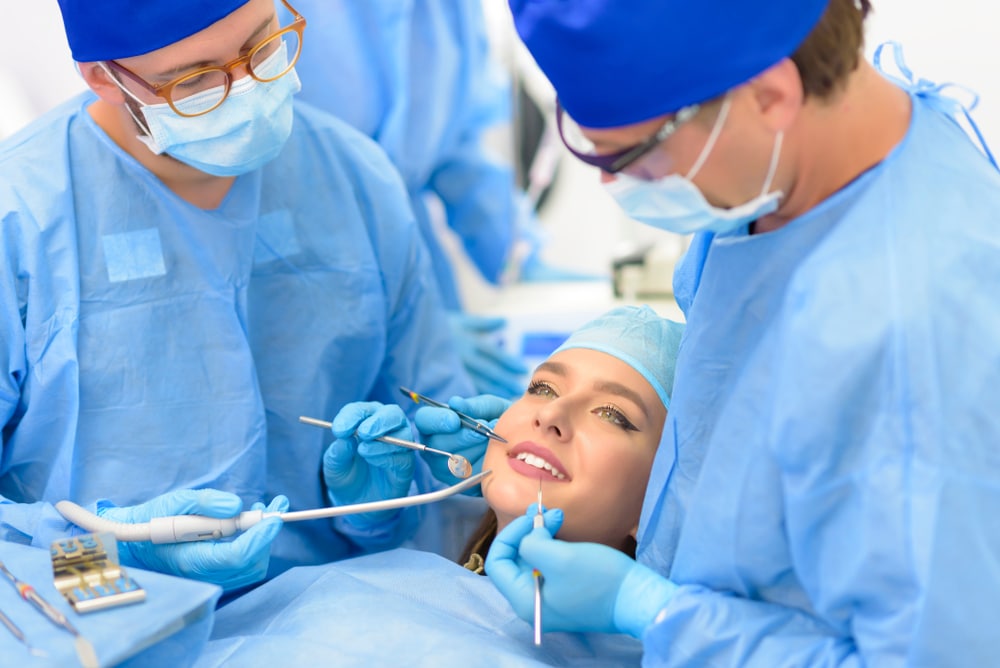 Are you anxious about oral surgery in Petaluma, CA? It is nothing to fear, and we make a great effort to make sure our patients are as comfortable as possible. We want you to feel relaxed from the moment you enter to the moment you depart. Our team of skilled specialists will handle your procedure expertly and sympathetically. Please schedule a consultation with Von Chan, D.D.S. 
What is Oral Surgery?
A wide variety of dental procedures fall under the umbrella of oral surgery. The following are some common kinds of oral surgery:
Tooth Extraction: Tooth extraction is a common form of oral surgery. We prefer to save your natural tooth when possible, but sometimes it's not an option when a tooth is damaged or has too much decay. You can count on us to do this procedure correctly if you need it. We'll handle the oral surgery with care, professionalism, and competence. We'll ensure you're as comfortable as possible throughout the treatment and help you benefit from the fast recovery. 
Dental Implant Surgery: Dental implants are among the most excellent tooth replacements. With the proper maintenance, they can last a lifetime and provide a natural look and feel. We surgically insert the implant into your jawbone as an artificial tooth root. We'll work hard to ensure your comfort and satisfaction with the results. 
Dental Bone Grafts: If you are missing teeth, you could also lose jawbone material over time. Your face may appear sunken as a result, and inadequate jawbone support makes it challenging to insert dental implants. A bone graft can help to rebuild the bone in your jaw to insert dental implants. From the first operation to implant placement, our team will handle the procedure with the utmost expertise and care. 
Periodontal Surgery: We can treat gum disease with periodontal surgery, a type of oral surgery. If left untreated, gum disease is a dangerous ailment that can result in tooth loss. We provide a range of periodontal surgery techniques to address gum disease and assist you in maintaining the health of your smile.
Corrective Jaw Surgery: We perform this oral surgery to fix jaw alignment issues. Misaligned jaws can lead to problems such as trouble breathing, speaking, and chewing. The surgery can restore your dental functionality. 
Dental Fillings: Dental fillings are considered a type of oral surgery. Though dental fillings are a standard dental treatment, a doctor with experience and skill must handle the process. We can use specialized dental tools to remove tooth decay and replace it with a functional filling material that matches your natural tooth color. 
The Oral Surgery Process
The process starts with a consultation. We look forward to getting to know you and understanding your treatment goals. Once we have a strategy, we will thoroughly evaluate your mouth and jaws and discuss some recommendations with you. Any questions are welcome; we will help you understand what to expect.
We'll ensure you're relaxed and comfortable on your procedure's day before we start. We'll employ the most advanced dental tools and methods to perform a successful surgery.
Oral Surgery You Can Trust in Petaluma, CA
Visit Dr. Von Chan for an oral surgery consultation. We can offer years of experience and take care of your procedure promptly, expertly, and comfortably. You'll be able to leave our office after treatment with improved tooth or jaw functionality. And we can help you recover quickly so you can return to your everyday life. 
Let Von Chan, D.D.S. help you achieve all of your dental goals. We provide a comprehensive range of services, from dental implants to tooth extraction, so that you can get the required care. We can't wait to show you how we can help you smile with bright, healthy teeth!